During one's life time there are many events that alter or change one's way of living. Not every day decisions (which are many) but life changing events that might be categorized as catastrophic. These might include a very serious accident, getting mugged, getting robbed, losing a pet, losing a loved one, a serious life threatening sickness, a heart attack, a stroke,  cancer. All of these and many more could be, would be catastrophic in one's life. But no one experiences every one of them and some experience none of them.  Physiologists have said that in a normal person's life there are 4 catastrophic events that almost everyone experiences. Let's take a look at them.
The first is Birth. Life begins at conception and for the next 9 months the baby in a warm secure place, with all of its need's being meet. Research has shown that a baby in the womb experiences sound, movement, in fact, probably 3 of the five senses; Touch, hearing and tasting. And depending on the surroundings LOVE by a mother (and father) who truly want their child. Then this baby is thrust from this very secure place into the world Naked and helpless and two more senses are added to the baby's world: light (sight) and smell. What a catastrophic moment, life will never be the same.
The second is graduation.
Graduation from (or completion of) school (High School). All of your life has been under the control of someone else. First your parent(s), they provided food, shelter, clothing and they expected you to obey them, do their bidding. Second your teachers for at least 12 years (sometimes longer) you have had a teacher directing your life, assigning you work, projects, homework and testing you along the way. Always demanding more, always expecting more always setting the bar a little higher. You have made friends along the way some best friends forever (BFF). But that is ending, for some it's off to college, others it's the military, and others into the work force. Again thrust out into the world. Now you are responsible for yourself. What a catastrophic moment, life will never be the same.
The third is Marriage.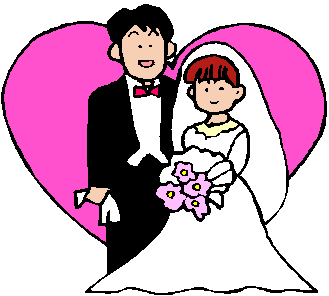 This is the only one of the 4 major events (catastrophic events) that you have a choice. Birth, not your choice, Graduation had to come to that conclusion if you stayed in school for the required number of years.  Now you have met someone, someone who will mean more to you than your parents and you have a choice to make. Do I continue my life as it is or do I chose to share it with someone else? Living together is not marriage and does not have the same obligations that you take on when you marry. Living together (or shacking up) has very little commitment, after all when you tire of it you can just leave. Sickness, Health, Richer, Poorer, Better, Worse, you hit one of these roadblocks you can just pack up and move on. But and if you chose marriage, WOW! What a commitment!  Be sure to read those vows you make before your family, your friends, your chosen one, the minister, and GOD. After the "I DO's" you are responsible for and to a stranger. What a catastrophic moment, life will never be the same.
The forth is Death. To review, BIRTH was out of your control, this was brought about by your parents, you just had to experience it. GRADUATION was just a course of fulfilling events that came to a conclusion (which altered your life), again which you had little control. You can be prepared or not, the choice is partly yours to make.  MARRIAGE, you could choose to avoid it or chose to enter into it, Not only if but when and to whom.  And it is up to you (and your partner) to make it work. But DEATH, all of us face it. It's been said there are two things unavoidable in life, Death and Taxes. Well, you can avoid taxes, but not death. As the scripture says"And as it is appointed unto men once to die … "(Hebrews 9:27). Again "For the wages of sin is death…" (Romans 6:23). Yes, all of us face death. Separation of the soul (life) from the body, now we all know what happens to the body. It is buried or cremated. But the soul (life), what about it? Does it cease to exist? There are many who would hope that is true. Does it reincarnate? Again many would hope that to be true. But the Scripture teach that you will be removed from the world you know and thrust into eternity, a world nobody knows about outside of the Scriptures.
Four life altering events, catastrophic events that most all of us will face. BIRTH, out of your control. GRADUATION, very little control. MARRIAGE, your choice, definitely a choice. Not only if but when and to whom. Still it is a life changing action. The forth, death, is appointed unto you. You do face death. It will happen to you. But you can prepare for it.
"And as it is appointed unto men once to die … "(Hebrews 9:27). The answers lay in the scriptures; "O death, where is thy sting? O grave, where is thy victory?" (1 Corinthians 15:55). "For the wages of sin is death, but the gift of is eternal life …" (Romans 6:23).
Now I make known unto you brethren, the gospel which I preached unto you, which also ye received, wherein also ye stand, by which also ye are saved, if ye hold fast the word which I preached unto you, except ye believed in vain. For I delivered unto you first of all that which also I received: that Christ died for our sins according to the scriptures; and that he was buried; and that he hath been raised on the third day according to the scriptures;   (I Cor 15:1-4)
That if thou shalt confess with thy mouth the Lord Jesus, and shalt believe in thine heart that God hath raised him from the dead, thou shalt be saved. For with the heart man believeth unto righteousness; and with the mouth confession is made unto salvation. For the scripture saith, Whosoever believeth on him shall not be ashamed. For there is no difference between the Jew and the Greek: for the same Lord over all is rich unto all that call upon him. For whosoever shall call upon the name of the Lord shall be saved.  (Romans 10:9-13)
For by grace are ye saved through faith; and that not of yourselves: it is the gift of God: Not of works, lest any man should boast. For we are his workmanship, created in Christ Jesus unto good works, which God hath before ordained that we should walk in them.     (Ephesians 2:8-10)